Magnetic Signs for Cars and Trucks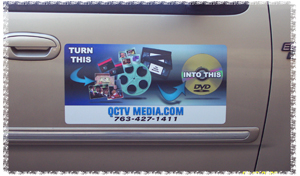 Magnetic Signs for Vehicles
Turn a car, truck or van into a moving billboard and increase your recognition by simply adding custom made magnetic signs to your vehicle! Let us help you with custom made magnetic signs for your vehicle from Direct Decals. One of the most affordable methods of advertising, magnetic signs on your vehicle are also a great way to promote and advertise your company.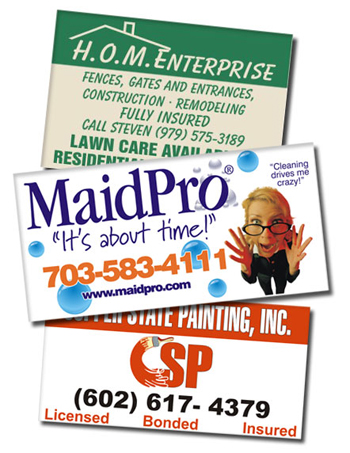 Truck Magnetic Signs
Displaying a magnetic sign on your trucks and delivery vehicles is one of the best ways to advertise and promote your business, product or service. Our magnetic signs will improve your company's image while also making your vehicle work for you! So set your company apart from the rest and get noticed today with a custom made magnetic sign for your vehicle!
Custom Magnetic Signs
Customize your magnetic signs for your vehicle with your company logo, address, phone number and/or message to increase your company's awareness. Choose the size, colors, fonts and graphics for your magnetic sign or let our in-house magnetic sign artists assist you in the layout and design of your magnetic sign, helping you achieve the perfect design for your vehicle. We can provide single color, multicolored or full color magnetic signs for your vehicle. The standard size is 12"x24" or 18"x24" but we also provide custom magnets of any size and shape. We stock white and black background magnetic material, but we can print any color you choose for the background color of your magnet.
Taking Care of Magnetic Signs
Magnetic signs are great because they are easily removable so they can be repositioned with ease as well. With this versatility, you are able to change your magnetic signs out as often as you like. Convert your personal vehicle into a commercial company vehicle during business hours and simply remove the auto magnets at the end of the day if you'd like.
Custom Magnet Shapes and Sizes
If you're looking for magnets or magnetic signs in other shapes and sizes, please visit our custom magnets page!