Vinyl window lettering, dealership decals, corporate logos, custom decals, Truck Trailer Car Vinyl graphics
Custom decals, vinyl letters, and logos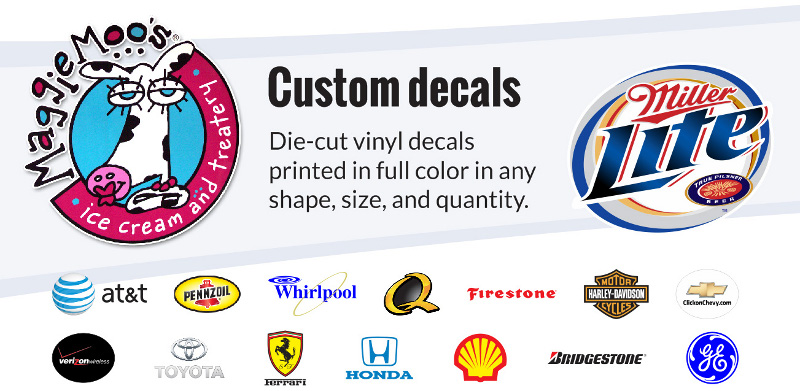 Questions? Ask us about your project or give us a call at 1-855-PRINT-10 today!
Stickers, Decals, Company logo advertising
Dealership advertising, vinyl dealer decals, vinyl stickers, company logos, and vinyl decals. We digitally print banners, sign graphics, decal and stickers for auto, truck, trailer, boat and car dealerships across the US. Any company or sponsor logo ready to apply on delivery vehicles, store or promotional windows, banners, decals and stickers.
Vinyl labels, Vinyl stickers, Decals, Vinyl banners
We do dealer advertising, vinyl decals, vinyl window lettering, vinyl stickers and decals for truck, auto, boat, trailer, and cars. Dealership vinyl for delivery trucks, trailers, wreckers, delivery vehicle advertising graphics for windows, vinyl wall graphics, vinyl store window lettering, vinyl banners, full color vinyl decals.
Digital printed photos on adhesive vinyl, vinyl banner signs and wall murals, vinyl race car wraps, vinyl boat wraps, truck wraps, trailer wraps, vinyl stickers and decals for sponsor and dealer advertising.
Custom vinyl lettering
We specialize in auto and boat dealership logos, for everything from business windows to trade show graphics for dealership boat shows and auto shows.
Promotional logo decals
Custom vinyl dealer name decals. new and used resellers of branded products, vinyl logos, decals, boat, auto logos, decals. Dealer logos, boat manufacturer logos, vinyl decals, new and used auto dealer decals. We do dealer logos for, truck decals, vinyl name tags, logos and digitally printed labels.
Custom vinyl decals stickers and digitally-printed adhesive vinyl for vehicles, boats, truck, autos, trailer, car and van. Replacement and aftermarket graphics for discontinued models. Posters and trade show vinyl display graphics, including printed vinyl banners and fundraiser advertising. See our other great sites for printing, brochures and business cards, outdoor flags and banners, other types of vehicle decals and stickers and advertising giveaways and promotional items.
We're the Graphics Professionals.™
Direct Decals can make your ideas become reality. We design, print and manufacture anything you can imagine to get your message out.