Personalized Vinyl Lettering
Personalized vinyl lettering includes lettering, numbering or shapes that are die cut from a sheet of colored adhesive-back vinyl. Letters are individually cut and have no background. After application to a window, the glass can be touched between the letters. Personalized vinyl lettering can be a great gift or a great way to turn a plain smooth surface into something more. We offer free professional layout, no hidden setup fees, and a fast turnaround time.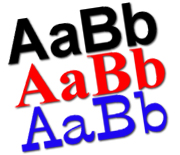 Design online hundreds of fonts to choose from click option 2 below.