License Plate Frames
Dealership License Plate Frames
Dealerships: Promote your dealership with custom license plate frames for all vehicles that roll off the lot!
Personal & Promotional Use: Have your message seen EVERYDAY with a custom license plate frame!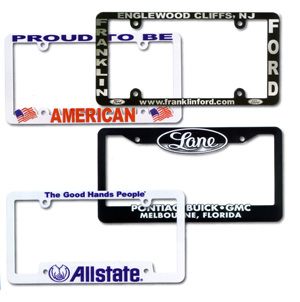 License plate frames are a fast and easy way to customize any vehicle. They can be used as long-lasting advertising and promotional tools. We offer durable license plate frames made with a lasting decorative shine. License plate frames can be customized with different colors, fonts, a logo, graphics, sayings & more. License plate frames are available for cars, trucks, motorcycles, bikes, RV's and any other specialty vehicles. Customize your frame for your company, events, organization or to show off your own personal message or favorite sports team.
* Great Way to Express Your Thoughts * Many Styles and Imprint Colors Avail.
* Quick and Easy to Install & Remove * Can be Personalized with Your Own Message
* High Quality, Durable & Long-Lasting * Can Be Fully Customized Any Way You Want!
ORDER YOUR CUSTOM LICENSE PLATE FRAME FROM DIRECT DECALS TODAY!