Custom Signs
Digitally Printed Signs

Direct Decals is the source for signs of any kind! Custom signs can draw needed attention to your business. Whether it is promotional signs, door signs, directional signs, building signs, parking signs, yard signs or point of purchase signs, we can produce a professional looking product for you. A custom signs is a cost-efficient way to provide high-impact advertising.
Vinyl Custom Signs
Our custom signs can be used on Plexiglass, flexface, Coroplast or any other suitable sign material. The adhesive backed vinyl is easy to apply -- no messy paste! You can construct your own custom signs, or we can do it for you. Custom signs are more durable than painted signs and will last longer. All custom signs come with a clear UV coat to protect them outdoors.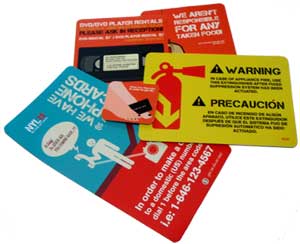 Different Custom Sign Options Available
Your custom signs can either be made of vinyl adhesive-backed lettering and graphics or can be printed in full color. We can use your design, or our design team can create the perfect sign to fit your needs! Thousands of images are available in our online catalog for use on your custom signs. Direct Decals is able to provide custom signs of any size, shape and quantity.