Printed Banners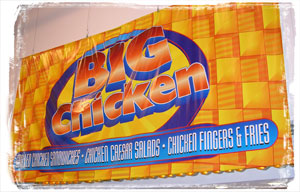 Digitally Printed Banners
Direct Decals offers full color printed banners. These photo-quality banners are great for special events, advertisements, sporting events and trade shows. Printed banners are digitally printed in full color, whereas vinyl banners are limited in the number of colors that can be used on each banner. Vinyl banners are best for text and simple graphics, while printed banners are able to capture the details of photographs and artwork. With printed banners, your possibilities are truly endless. You can send us your image and we can digitally print it onto a full color banner of any size. All of our printed banners have a UV protective coat to ensure that the artwork on your banner will not fade in years to come.
Banners are Easy to Store
Printed banners are easy to install and store. All printed banners can be equipped with grommets and ropes, making them easy to hang. The flexible vinyl material allows for you to roll and store the banner until the next time you need to use it.
Printed Banners for Trade Shows, Exhibits
Our vibrant, full color banners are an eye-catching way to advertise for your business! Printed banners are perfect for trade show backdrops and displays. Full color banners with photographs can add a special touch to any birthday, anniversary, graduation, family reunion or wedding reception. Let the design team at Direct Decals design the right banner for your event!
Full Color Banner Pricing
| | | |
| --- | --- | --- |
| 2'x6' = $84 | 2'x8' = $112 | 2'x10' = $140 |
| 3'x6' = $126 | 3'x8' = $168 | 3'x10' = $210 |
| 4'x6' = $168 | 4'x8' = $256 | 4'x10' = $280 |
We offer a 10% discount for simple banners using cut vinyl letter designs. Email us for custom sizes.
Use our upload form to email us your file. Please include the size and quantity desired, and, usually within the same day, we will email you back with an ordering link. You simply click on the link sent to you, and your custom order will be placed. It's that easy!