Floor Graphics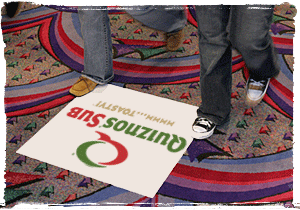 Floor Graphics and Advertising Decals
Need a fresh new way to promote your company, new product or special sales? Turn your floor into valuable marketing space with floor graphics from Direct Decals! Floor graphics are digitally printed, eye-catching vinyl decals made to adhere to the floor. Any logo, graphic, design or photo can be turned into floor graphics. Floor graphics are a great new way to create interest, announce an upcoming event or advertise your company or product in high traffic areas with high visibility.
Vinyl Floor Graphics for Products, Sports Teams
Floor graphics utilize unused floor and counter space to effectively communicate the message you want to get across. Floor graphics are a super cost effective way to get your message across to your consumers. Naturally people focus their eyes downward while shopping and it's there they'll notice your message or campaign with floor graphics. Floor graphics stimulate sales and the consumers respond at the cash register. Vinyl floor graphics are a proven way to increase brand awareness.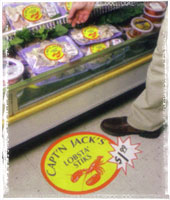 Apply Graphics to Any Floor
Floor graphics are gaining popularity in airports, museums, malls, nightclubs and exhibition halls. They can be used for informational purposes such as directions. Sporting-event sponsors and school gyms often use floor graphics as well. Floor graphics can be applied to virtually any floor such as vinyl and ceramic tile, concrete, hardwood floors, gym floors, basketball floors, fitness centers, recreation centers, hallways, steps and many more. Floor graphics can be applied to any smooth surface.
High-Traffic Laminate for Maximum Durability
Floor graphics are printed vinyl cut outs.They are generally made with an anti-slip surface and are self adhesive. The graphics are digitally printed and can be contour cut to any shape or size. Floor Graphics are easy to apply and remove and are reusable.