Vehicle Wraps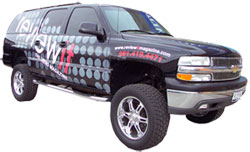 Car and Truck Wraps
Want an extremely cost effective way to create larger-than-life promotions that is impossible to miss? Have your car, truck, van or your entire fleet work around-the-clock for you with a vehicle wrap from Direct Decals!
By digitally printing graphics on vinyl, we can produce car wraps, truck wraps, bus wraps, trailer wraps, and more. Full color printed vinyl vehicle wrap over an entire vehicle turning your car, truck or any vehicle into a powerful advertising and marketing tool or one cool ride!
Dramatically increase your visibility by having your message larger than life on every side of your vehicle giving your business the edge over the competition. Because of their mobility, vehicles provide an excellent means of getting your company's name all the attention it deserves. Our award-winning professional in-house design team will work with you to engineer a graphic for your vehicle that is sure to get you and your company recognized. Nothing speaks louder than beautiful graphics.
Bus Wraps, Boat Wraps, Golf Cart Wraps
Our vinyl vehicle wraps can be used on any vehicle -- buses, trailers, golf carts, aircraft, boats and personal watercraft, almost any smooth surface. Our state-of-the-art vinyl printing equipment produces durable, vivid images in larger than life size. And installation is a snap -- it's as easy as wrapping a gift!
How are Vehicle Wraps Installed?
Our vehicle wraps are durable, washable and removable. Vehicle wraps use vinyl that can be formed around curves smoothly. We use a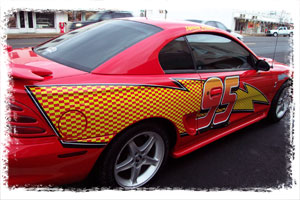 high-quality vinyl adhesive product designed to be used on painted vehicles. Installation is as easy as wrapping a gift. Included with all orders is an application squeegee and an installation video that walks you step-by-step through the installation.
Let Us Design It For You!
Let our design team help you create an effective graphic that speaks for your company with style. Make efficient use of all your vehicle's surfaces with full color digital graphics and make a lasting impression as you drive. Vinyl graphics are produced by computer-driven machines by cutting a sheet of vinyl in the shape of logos and letters. This process yields individually-cut, prespaced letters that are easily applied in one sheet. With an outdoor life expectancy of up to 3-5 years, vinyl is as durable as paint, and cuts perfect every time. Furthermore, the vinyl surface can be printed on with special inks to produce photographic images prior to the cutting stage, which can generate fantastic attractive results.
We also offer the special perforated vinyls that allows you to see an image on a glass window from the outside, while maintaining visibility from the inside. This effect is common on vehicle wraps when window coverage is required but outside visibility is required.
Choose the Professionals
Why choose Direct Decals? Our professional team of designers has extensive experience. Our group has designed fleet graphics, car wraps, bus wraps, trailer wraps, security vehicle graphics, company logos, complete corporate branding schemes, vinyl car graphics, private and commercial vehicle lettering, window graphics, storefront displays, trade show setups, point of purchase graphics, kiosk wraps, car logos, vinyl banners, billboards, brochures, postcards, mailouts, and virtually every other form of printed or electronic advertising medium. We are ready to help you design and fabricate a professional image that sets you apart from the rest!